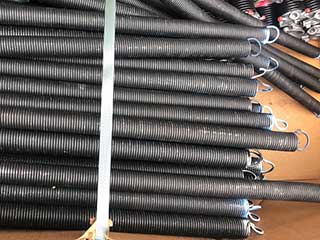 When it comes to your garage, a well-maintained set of springs will go a long way to ensuring your door opens smoothly, each and every time. Sadly, even the best springs can become eroded by age or damaged through usage, leaving you looking for a repairman. Garage Door Repair Fairfield specializes in the repair of broken or faulty garage door springs. Our technicians are able to provide swift and comprehensive repair work that you can count on.
Caring For Old And Damaged Springs
Our garage door spring repair service is designed to take care of torsion springs, extension springs, trampoline springs and much more. Whether you need help tightening a loose spring or you're looking for someone to take care of torsion spring adjustment, we're here to help. Furthermore, our technicians can undertake repair work on both automated and manual doors.
Spring Repairs When You Need Them
In most cases a broken spring comes as a complete surprise. Fortunately, our repair services are designed to limit any interruption to your daily routine. We provide fast and effective repairs when you need them, with same day service available in some instances.
When It's Time to Replace Your Springs
In addition to repairing springs, we're also able to completely replace garage door extension springs. We have access to a varied supply of different springs, in many shapes and sizes, any of which our technicians can professionally install for you. With a new set of springs, your door will have a whole new lease on life.
Serving Residents Across The City
Our broken spring replacement and repair services, like all of our garage door services, are available to residents throughout Fairfield. Wherever you are in the city, we can provide you with the assistance you need.
Get in touch with us and learn more about the services we offer and how they can benefit you.
We also take care of:
Garage Door Transmitter Repair
Broken Emergency Release
Garage Door Receiver Repair
Bent Garage Door Track Repair